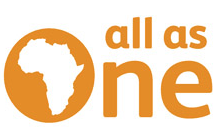 Caring for the children of Sierra Leone
-

One in five

will die before reaching age five.
-

57%

will never learn to read.
-

340,000

are without parents.
All As One, a 501(c)(3) nonprofit organization, is the last chance for many of these most vulnerable children.  We provide them with love, a home, three meals a day, an on-site accredited school, health care, counseling, and most of all…a family.  Since the year 2000, our targeted interventions have provided essential basic needs and helped save the lives of over 35,000 kids.  They now have futures and unlimited potential to positively change their country and the world.
These children matter — and you matter to them!  Please join us!
Helping
all

we can...

one

at a time.
---
-

JOIN OUR FAMILY

-
Our funding has taken a big hit over the past year, and we need your help to keep the orphans off the streets. Our doors must remain open — there are no government programs in Sierra Leone to help these destitute children, so they have nowhere else to go.
Recurring 
MONTHLY DONORS
are essential to rescuing these children and providing them with a caring family of support.
---
Singer & AAO Volunteer, Azania Noah, speaks for All As One...
---
Click here to read our updated Privacy Policy.